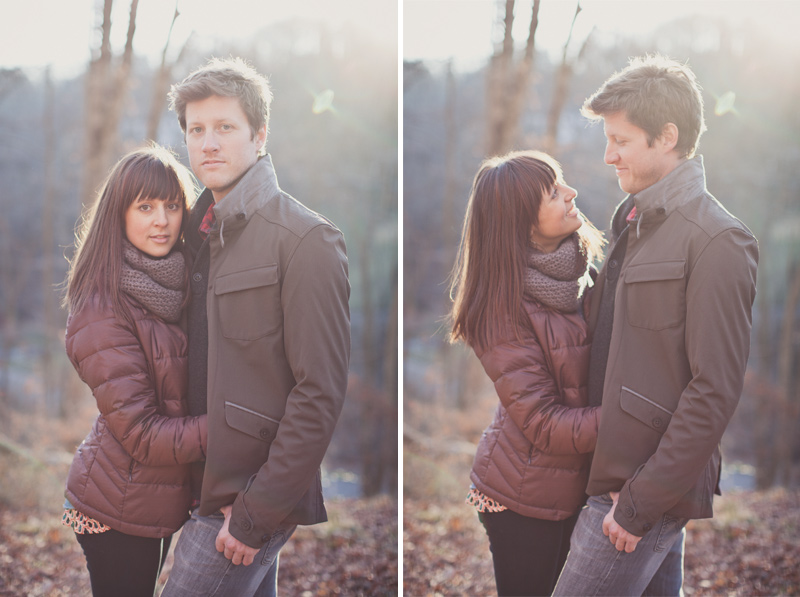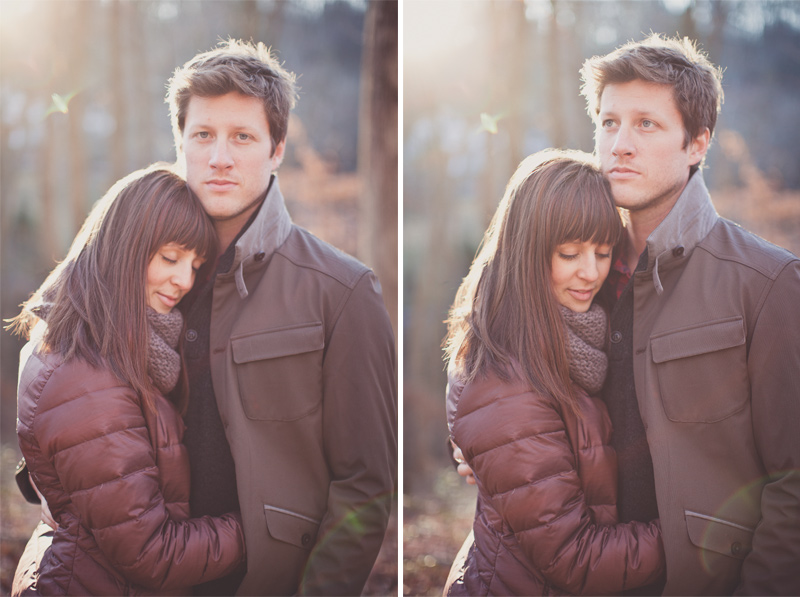 After a long year of working as a wedding photographer in Los Angeles and adventures in 2011, I told myself I should take it easy for a few weeks while spending Christmas with my family in Cincinnati, and not even think about bringing my camera gear with me. So I packed light, and headed home with merely a carry-on bag, feeling very smug about it.
Soon after arriving, I get news that an old friend and his new fiancé would be in town briefly. Adam and Ali are both amazing wedding photographers, so I was honored when they asked me to take a few engagement shots. Admittedly, I had a pinch of trepidation to aim a camera at two very talented creative individuals, especially without my own gear.
I only had about an hour's time to zip over to Adam's house – while my spiced pear bundt cake was in the oven for Christmas eve's dinner festivities. We walked into the woods surrounding his neighborhood and, above is what came of it.
"Technically" speaking: Not gonna lie… The limited time frame combined with meeting one of my subjects for the first time, combined with navigating a camera that had different settings (with my cold, cold hands) trying to incorporate the oh-so-many trees in a way that wasn't distracting from the couple… was definitely an exercise that had me on my toes!
I usually scout my locations well before a wedding photography shoot. I'm a planner. I like to plan. It makes me feel comfortable about having some control over enough variables that I can then have more liberty to play around during the shoot itself. All that aside, it's healthy to be able to pick up a camera and make the best of it! Maybe I should make a game of it with my fellow wedding photographer friends; A photo challenge-of-the-month where we're thrust into a scene and all have a limited time-frame to come up with something creative! Yeah? Anyone?
All my best wishes to two wonderful human beings, uniting in marriage! ♥