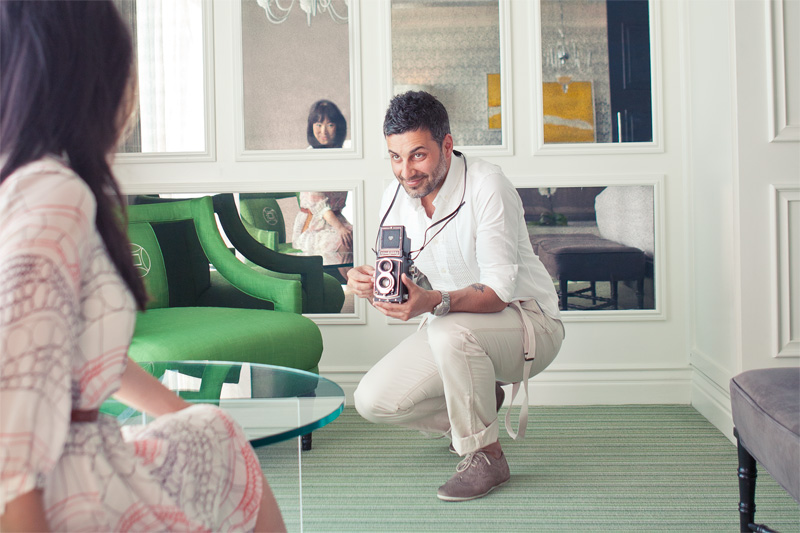 This shoot is the embodiment of all that I love about what I do. I cannot describe how much fun I had with Paul and Sunny, so although I will do my best to convey my post-session bliss, I hope in the end the photos tell it on their own!
Where do I begin? Paul and Sunny, two very creative individuals from Vancouver, British Columbia, were in town briefly after a little getaway in Palm Springs. Paul is a fellow photographer, visual media designer and the founder of StyleQuotient.ca – one of Canada's leading style blogs. Sunny is a fashion & beauty consultant, and the voice behind PartlySunny.ca.
Not surprisingly, this stylish duo decided to stay at the Viceroy in Santa Monica. The hotel has an array of public areas that are very chic, but I decided to ditch the trendy photo backdrops and head up to their suite instead.
Without much delay, I was bouncing around the room with my camera, rearranging furniture any which way to accommodate whatever impromptu idea came to mind. (Paul helped with the heavier stuff.) We found ourselves playfully making words with scrabble letters (or lack thereof), and when little wooden square letters just weren't enough to say "XO", we swiftly disassembled a glass coffee table. Why not?
As I had hoped, the privacy allowed for the session to unfold more intimately and naturally, in a way that allowed for their personality to shine through. By the end I was as happy as a kid who'd collected the bestest candy from a piñata; I knew we had succeeded in telling a little story that reflects them as individuals and as a duo; A beautiful, confident couple who know that life with smiles and laughter is so much more delightful!